Our lunch at Bloody Mary's was just as expected (per pre-read reviews on Trip Advisor.) I had done a bit of reading about the restaurant before our trip and unfortunately the reviews were more negative than positive. While the ambiance is fun (sand on the floor), the food just ok. Brian's burger and fries were just average and my tuna salad sandwich was more mayo than tuna. All in all, a fun stop and now I can say, "I've been there!" when I see one of the souvenir T-shirts in my travels.
Nonetheless, we came home with our Bloody Mary's t-shirts as souvenirs.

The ship offers a complimentary dinner tender to the restaurant and I did hear this trip was a far better experience than our "nothing to write home" about lunch. Comments of arays of fresh fish laid out for you to choose from (dinner only) and decently tasty meals were heard around the pool the following morning.
Bloody Mary's restaurant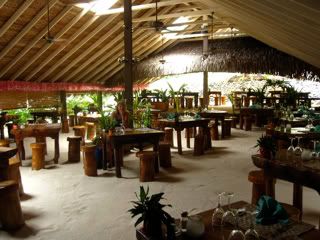 Looking across the street from Bloody Mary's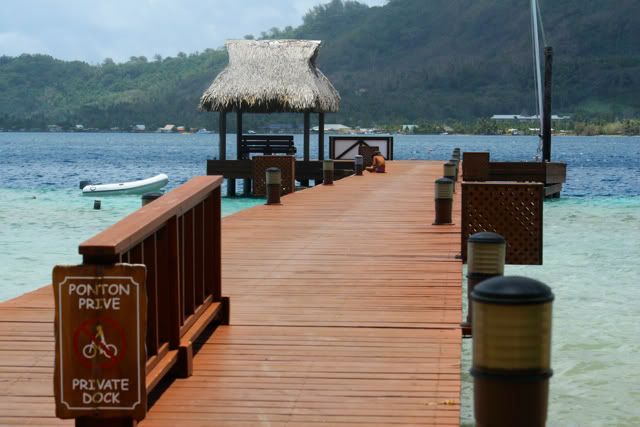 Our home away from home!
With our tour around the island complete we headed back to home base. Our car was easily dropped off directly at the pier and we spent about 20 minutes waiting for the tender. Just before you return to the tender there is a large covered area filled with local artisans selling all kinds of wares, worth taking a peek.

A nice PG touch was the refreshment area where one waits for the tender to return to the ship. At every stop, PG sets up a tent (very welcome after a long day in the strong South Pacific sun!) with a few chairs and tables with chilled water and fruit punch. A hand sanitizer station was also available. A crew member was always waiting to assist if you needed it.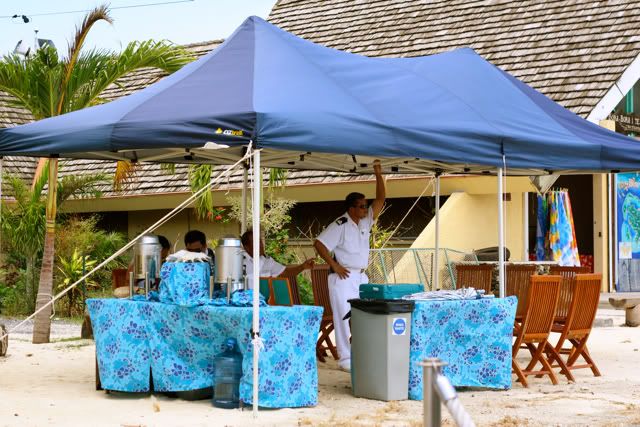 On the returning tender these guys paddled and rode the wake wave all the way back to the ship!
The evening festivities included a "Pool Deck Party" after dinner with Siglo as entertainment. A very enjoyable evening of dancing and fun under the stars.

Siglo definitely lived up to their reputation. A fantastic group of guys who play just about any sort of music requested. From 40's Big Band Swing to 80's hits to modern day pop they played it all and they played it well. Nicely done Siglo!