Today Bora Bora!! Often hearing that Bora Bora is one of the most beautiful places on earth, Brian and I had eagerly awaited our arrival to this island. Indeed it is gorgeous! As I am a bit of a photobug, our decision to get a car of our own allowed us to explore the island at our leisure. In addition, a request from a friend at home had been made to please, please stop at Bloody Mary's and get him a t-shirt (he and his wife visited 14 years prior on their honeymoon and his original was worn out!).
The rental car was easy, just across from where the tender lets you off. The options for rental range from 2, 4, or 8 hours. We chose 8 hours at a rate of about $135 for the full day (1/2 day runs about $110.) The ladies at the desk were extraordinarily friendly and gave us tips for their favorite places to visit and suggestions for where to stop. You could feasibly get around the island in about 1 hour, but with our photo stops and our planned Bloody Mary lunch we timed out at about 5 1/2 hours! (Gas ran about $12)
Bugster - we thought about this one...
but opted for the fuddy duddy Kia with a locking doors instead!
Bora Bora is not an island with white sandy beaches. Matira Beach was recommended by the dive master on the ship as the best, but we actually passed it without realizing we had gone by. With lovely views and stunning rock formations my camera had a workout!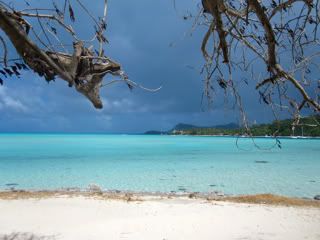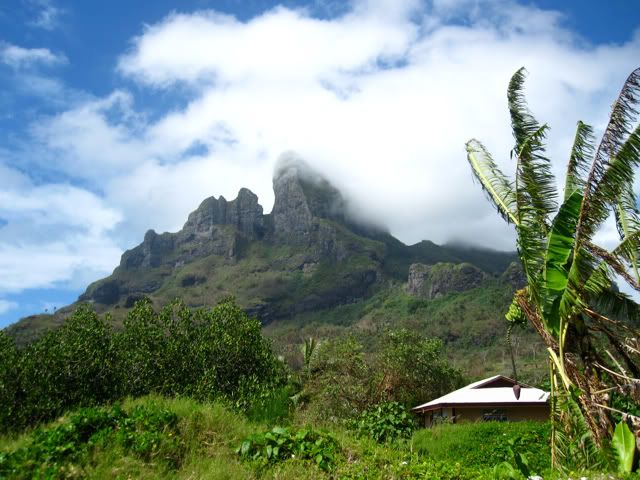 Magical vistas and stunning rock formations
Paradise Found!